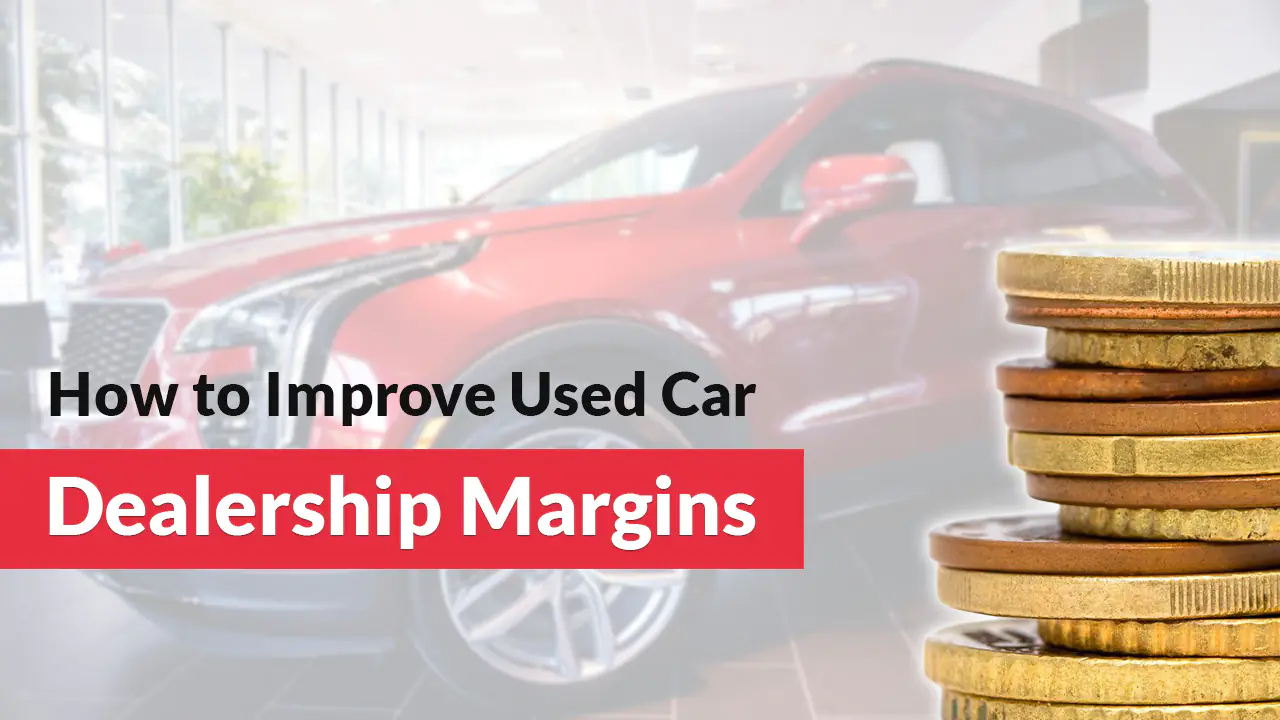 Posted on: Friday, 05 May 2023
Improve Dealer Used Car Profilt Margins with these Strategies
How To Improve Used Car Dealership Margins
If you are like most dealers, you are always looking for additional ways to weather volatility as retail used car prices and dealership average front-end gross profit fluctuates. Yet, there are still many successful used car dealerships out there that stay ahead of the curve by implementing some key strategies.
If you are a small franchise dealership or even an independent car dealer, keeping your bottom line as healthy as possible is literally how you stay in business. Competing with large franchised or national dealership groups is challenging enough, so what can you do to improve your used car dealership margins?
In simplified terms, seeing better profit margins on your used cars is all about two things: increasing sales while reducing your expenses. Now it's time to discuss the fine print. Are you doing enough of these little things to ensure you are maximizing your profit potential for every sale you make?
Use These 7 Strategies to Improve Your Used Car Dealership Margins
1. Acquire the Right Inventory for Your Market
Filling your lot with the right cars for your market is the biggest and most obvious strategy you can use to maximize your dealership's margin potential. In the past, the process of vetting your inventory while keeping up with your localized market trends was a daunting but rewarding task.
In today's market, keeping up with market data and local analytics is more important and rewarding than ever before. However, the days of it being a daunting task are over thanks to innovative industry tools such as the automated Retail Market View built-in to Laser Appraiser VIN Scanner and Dealer Studio.
Taking advantage of Retail Market View from Laser Appraiser makes it quick and easy to find the specific vehicles your market is listing and selling. You can even narrow your search down to specific trim configurations to get immediate results at your fingertips.
If there is a specific vehicle your customer or market is looking for, Laser Appraiser car dealer software will help you find it while providing you with the tools you need to determine your potential profit margin on the fly. Having access to this market data is an invaluable resource that will position your dealership's inventory for success with every vehicle you consider purchasing.
2. Don't Rely on In-Person Auctions; Stay on the Lot and Shop for Wholesale Vehicles Online
If you aren't using Laser Appraiser Auction Wholesaling to build your buy list instead of spending days on the road just to see vehicles in person before bidding or purchasing, you are wasting time. It is extremely costly to your used car profit margins if you are not doing your bidding and buying online.
With the Laser Appraiser mobile appraisal app for car dealers, VIN Scanner, you can optimize your time and resource management by building your buy lists in a couple of hours instead of spending a week on the road.
When you are able to spend more time at your dealership in a management role you will be able to focus on ways to improve your dealership profit margins. You'll be able to:
Keep an Eye on Multiple Lanes for More Profitable Vehicles - As you know, some vehicles don't show up on the run list until the moment they're moving through the auction lane. When you're not on the road, you'll have more time to monitor multiple auction lanes, simultaneously, to find the cars on your buy list.
The Laser Appraiser dealer auction wholesaling system can help you manage your entire auto auction run list while putting you in the best position to understand the true market value for every vehicle you consider adding to your inventory.
Teach Sales Team How to Close More Profitable Deals - Closing more profitable deals is all about understanding the real value of each individual vehicle in your inventory. Spending more time at your dealership gives you an opportunity to educate your sales staff on how to sell the value of each vehicle to potential buyers with confidence.
Selling value instead of just cars almost always leads to a higher profit margin potential if you are using the right used car dealer management software, like Dealer Studio, to streamline your process while making inventory decisions.
Manage Your Reconditioning Process More Efficiently - Random reconditioning issues always pop up once your team gets under the hood. By spending more time at your dealership, you'll be able to address potential reconditioning issues immediately to keep your entire process running smoothly.
At the end of the day, moving as many vehicles through the recon line as quickly as possible is good for business and even better for your inventory. You want to get cars on the lot and available for sale for a better chance at realizing the full profit potential for every vehicle.
3. Update Your Sales Strategy
Car buyers are more informed than ever before which has a huge impact on their buying behavior. Some of the most successful dealerships keep the following factors in mind when developing their overall customer approach and sales strategies:
Buyers Have More Information at Their Fingertips - Obviously, closing the deal by selling value is what the art of profitable car sales is all about. However, consumers have a massive amount of data and important information available to them, instantaneously, at all times.
As a result, car shoppers and potential buyers need more of a consultant than a salesperson at certain times throughout the process. This means your sales staff needs to be properly prepared and knowledgeable when it comes to answering questions and clarifying information about specific vehicles in your inventory.
Buyers feel more comfortable in the presence of salespeople who are confident in their expertise while providing accurate information that the consumer can easily verify online in a matter of seconds. In fact, it is better to admit you do not know the answer to a question rather than losing credibility with inaccuracy or by guessing.
By having more time to be available for your staff, you will directly influence and have a positive impact on your margins. Making the extra effort to educate your staff on selling value and the importance of providing accurate answers to potential buyers will create a more relaxed atmosphere for everyone.
Transparency Builds More Rapport - Don't wait until the end of the conversation to share the most important information about a vehicle's condition or history with the potential buyer. Especially when discussing pricing.
Honesty builds trust which will let the guard down of almost any consumer who has built a wall before considering a used car purchase. Establishing yourself as a dealership that practices transparency will build the kind of long-term relationship with your customers that keeps them coming back in the future. You might even get a few referrals out of it.
Price Your Vehicles Competitively - If you're not using Laser Appraiser dealer appraisal software to implement real-time pricing at your dealership, your local market could be leaving you in the dust. Shoppers can do price comparison shopping right on their phones and mobile devices while they are at your lot.
Using real-time pricing at your dealership could be the difference between making a sale or seeing them walk. Make sure your prices are competitive for your market if you want to sell more vehicles. You can use Retail Market View from Laser Appraiser to get the most out of your competitive pricing strategy.
Provide a Better Buying Experience - Focus on providing your customers with a personable and pleasant buying experience. Make the experience remarkable and go the extra mile by finding ways to minimize the amount of time they have to spend at your dealership.
One of the ways you can reduce the time buyers spend at your dealership is by making sure you have up-to-date and accurate inventory information online. The last thing you want to do is make a potential buyer feel like they are wasting their time. Sometimes a vehicle moves fast but try your best to keep your online inventory updated and keep any communication you have with potential buyers as clear as possible.
Another thing you can do is find ways to streamline the entire buying process from the buyer's perspective. Simulate the entire buying experience with your staff and ask your sales team for feedback to look for areas you can improve.
4. Improve Your Online Presentation and Presence - Most car buyers begin their shopping quest online now. You need a user-friendly website that's easy to navigate and always up-to-date. It is your online storefront and its only goal is to drive more traffic and sales through your dealership. Make sure you're not overlooking your website if you're looking for ways to improve your dealership margins.
It's equally important to establish, maintain, and grow your social media presence. Social media is one of the easiest ways to advertise through word of mouth. Running simple programs, such as encouraging or rewarding customers to post photos of their vehicle purchases using hashtags directed at your dealership's social media account, is literally effortless advertising. Do it. It will pay dividends in the long run.
5. Optimize Your Marketing - If you are a small or independent dealer, your marketing spend is limited compared to an OEM or franchised chain. Optimizing your marketing efforts is the best way to get the most out of your budget while maintaining your goal of improving dealership margins.
One of the ways to get the most out of your efforts is to take advantage of target marketing. Make sure the net you're casting isn't too wide. You don't want to waste marketing dollars on an audience that is unlikely to buy.
It really is just marketing 101: increase your efforts to the right audience to improve your conversion rate. Use personalized messages geared toward your target buyers rather than pushing generic and blanket marketing campaigns to the masses.
You can even take a deeper dive into your marketing efforts such as looking at your programmatic ad tool. You can use advanced real-time and third-party data coupled with your inventory to strategize ad placement and frequency.
Always review your website for best SEO practices and potential areas for improvement at least once per year. Algorithms, search behavior, and other factors are constantly evolving. Make sure you take some time to keep up with the trends.
Finally, don't ignore your social media accounts. Keep building your social media presence to optimize your marketing efforts without bothering your bottom line.
6. Streamline Your Operations - There are almost always areas where every dealership could reduce costs and increase efficiency. There are several ways to automate your administrative tasks and optimize your sales process by taking advantage of Laser Appraiser's dealership management software. You can also try implementing lean principles into your inventory management process.
Many dealerships are even looking for more modern lead-generation solutions. What is your primary source for getting leads and is it time to reevaluate the quality of those leads versus alternative options? Finding qualified in-market leads efficiently is a great way to streamline your operations.
7. Superior Customer Satisfaction - It's no secret that a satisfied customer is more likely to give you a referral as well as return to purchase another vehicle from you in the future. Always do your best to provide excellent customer service and try to stay ahead of any potential lingering issues by addressing complaints promptly.
A great customer experience should always begin with the first contact customers have with your staff and continue all the way up to management and ownership. If you make this your business model, customers will always be satisfied with your effort, at the very least.
How To Apply These 7 Strategies To Improve Your Dealership Margins
Implementing these key strategies will lead to your dealership having a keyless entry for your profit margin potential. Using these 7 simple tips will help improve your used car dealership margins and lead to growth for your business over time. To go one step further, using the right car dealer management software is an even easier way to streamline your dealership and put you in the best position to increase your average used car profit margin.
Your bottom line will thank you for using any or all of these strategies but you may be wondering where to begin. Why not save yourself some time and headaches by letting Laser Appraiser do the heavy lifting for you?
Simplify the entire process using the latest used auto dealership auction pricing software and other wholesale auto dealer software tools available with Laser Appraiser precision. You can even save time by finding used car values by VIN with a simple scan.
Discover how Laser Appraiser wholesale automotive industry solutions and our easy-to-use VIN Scanner app can streamline your operations with a free used car dealer software demo today! Please share this article and start a free Laser Appraiser VIN Scanner or Dealer Studio demonstration to see how you can use these tools to increase your average used car profit margin on every transaction.
#MineProfitsFromVINs today.