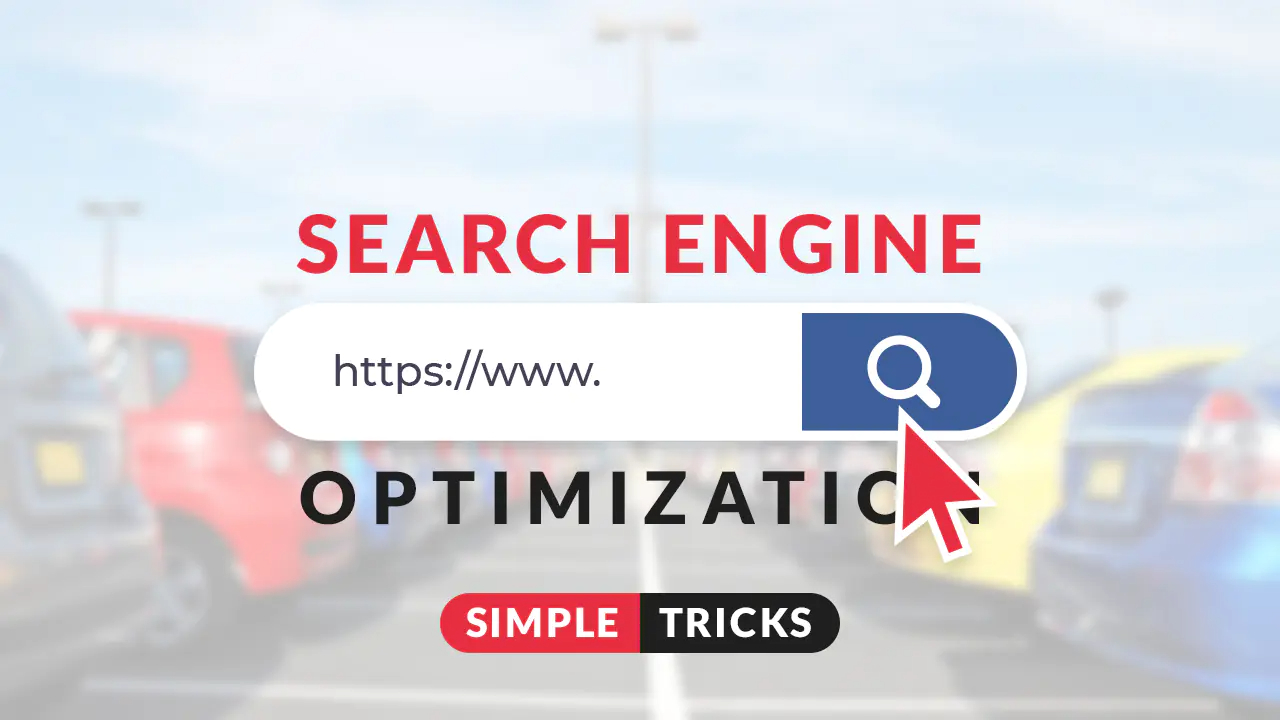 Posted on: Wednesday, 26 April 2023
Improve Your Dealership's SEO (Updated)
Have you been looking for ways to improve your car dealership's website visibility?
Search engine optimization, or SEO, is a phrase that can intimidate almost everyone. We all use search engines like Google or Bing daily, but it's unclear how they work. However, search engine optimization can make or break a dealership, and it's not as complex as you might think. Even though your products aren't online, your potential customers are. Why not take advantage of current technology, and make sure that you have a leg up on the competition by getting your dealership seen?
In recent times, car buyers are starting their search online. According to Google, 95% of new vehicle buyers have done research online, and a large majority of that research is on dealership websites. The average buyer can make up to 140 Google searches during this process. If your dealership fails to appear in those results, then you are missing out on endless opportunities for buyers to peruse your online inventory and potentially purchase from your dealership. Here are some easy tricks that your dealership can do to appear higher on search engine results.
Focus on your niche. These days, there are a multitude of dealership options for buyers, especially with the Internet. With the competition being so fierce, you should think about how your business stands out from the rest. Niches can include things like specialized inventory, certain kinds of customers, or other themes such as providing specific services to customers.
Once you determine what you want your customers and the search engines to associate with your dealership's branding, it's time to ensure that you are one of the first results on Google under this niche. One way to do this is to create a dedicated page on your dealership's website. For example, if your dealership has flexible financing options for customers, create a page around the deals and contracts that you offer. Buyers will love to see details, and the search engine will notice the real estate that you gave to "flexible financing" on your site and will bump you up on the search engine results.
Optimize your website content. Relevant, informative, and engaging content attracts more visitors while keeping them on your site for longer periods of time. Always use keywords related to your dealership business such as car brands, models, and services.
Optimizing your web content is one of the most important ways you can improve your car dealership's SEO practices. You should blend keywords you want to use within the content seamlessly. Try to use the keywords with the highest search volume in page headlines and subheadlines if possible. As long as it makes sense, using as many unique relevant keywords throughout the content as possible is never a bad thing. Just make sure you do not sacrifice readability along the way.
Focus on your community. Most dealerships know the worth of targeting their local community, whether it be through radio ads or giving to local charities. Partnering with the local community is both financially rewarding, but also personally rewarding. Making space on your dealership's website to advertise your community involvement is a great way to appear in the search results of your community. Write about the softball team you are sponsoring, and share videos of the local fundraiser on your website – search engines value written and multimedia content more than they do social media, so making space on your site will help your dealership appear in a wider range of searches than ever before. This is the search engine equivalent of casting a wider net while fishing.
Another way you can enhance your local search result rankings is to create location-specific content using location-based keywords. Don't forget to update things such as your Google My Business profile either. It's all about improving your car dealership's visibility in local search results. Use local SEO strategies whenever it makes sense.
Here are some other tips for improving your car dealership's SEO visibility:
Say what makes your dealership unique. In the same vein as the two previous recommendations, the little details can make the biggest difference when it comes to search engine results. Does your dealership have a bilingual staff? Services like this should be proudly displayed on your dealership's website so that buyers and search engines alike recognize these aspects of your dealership. Better yet, make a whole page on your site dedicated to its special offerings – the more real estate it takes up on your site, the more likely a search engine is to recognize the information and give you the most coveted spots on the results page.
DON'T use images for important details. Or rather, make sure there is text, as well! Google cannot recognize images, so your dealership can slip through the metaphorical cracks if you don't add the same information in the text. An image advertising that "Se Habla Español" is cute and certainly helpful to customers, but only if they can find your dealership online in the first place! You can keep these images, but make sure that the same sentence is located in the text on your website, too, so that Google can bump you up in the results for buyers who are looking for a dealership that can communicate in Spanish.
Include testimonials and reviews. Search engines want to show the best results to their users. The easiest way to get your dealership seen is to prove that you are indeed the best result. Customers trust other customers, so why not dedicate more space to your site for their voices to be heard? And because customers trust each other, so do search engines. Dealerships with more reviews are most definitely prioritized.
Implement on-page SEO techniques. This means optimizing the structure and content of your web pages to improve their relevance and visibility to search engines. For example, this is where those pesky meta tags and meta descriptions come into play. On-page SEO techniques include headings, image text including captions, and even URLs. In other words, pay attention to the mundane details because they matter.
Build backlinks. You can improve your website's authority and visibility in search results by building high quality backlinks from other high quality websites. Contact industry experts, influencers, car bloggers, or online automotive publications to begin building some backlinks to your website. You can even reach out to some of your local community businesses to establish some backlinks to help each other out. Be creative and your backlinks will begin paying dividends in your SEO visibility.
Use social media. Make sure you are taking advantage of social media. People are spending more and more time on various social media platforms every day. You can use social media to increase your visibility and drive traffic to your website. You can begin simply by sharing your website content on social media platforms such as Facebook, Twitter, or Instagram.
Mobile optimization. Let's face it, a majority of web traffic comes from mobile devices. Make sure your website is optimized for mobile users. You'll want to have a mobile-friendly design, fast page load times, and easy-to-use navigation.
Monitor and analyze your website traffic. Always monitor your website traffic and analyze your SEO data to look for areas you can improve your efforts. You can use tools such as Google Analytics to check your website's performance so you can adjust your SEO strategy accordingly.
These are some easy tips for improving your dealership's website visibility while making sure that your voice stands out when buyers are researching online. The more visible you are, the more likely it is that customers will see your dealership and make a purchase. Nowadays, digital presence is important, so use these tricks to put your best foot forward.
The bottom line is, improving your website visibility will lead to more traffic through your door. That's why it is so important to improve your car dealership's website visibility through good SEO practices.
With more customers, the sky's the limit! Position yourself for success by taking advantage of everything the Laser Appraiser Dealer Studio has to offer your car dealership. Streamline the entire process using the latest automotive auction pricing software and other wholesale auto dealer software tools available with Laser Appraiser precision. You can even save time by finding used car values by VIN with a simple scan.
Discover how the Laser Appraiser Used Car Dealer Management Software and VIN scanner app can give your used car dealership the winning formula with a free used car dealer software demo today! Please share this article and start a free Laser Appraiser VIN Scanner or Dealer Studio demonstration to see how you can use these tools to increase your average used car profit margin on every transaction.
#MineProfitsFromVINs today.