Posted on: Saturday, 10 November 2018
Better Ways to Appraise a Used Car
Appraise Accurately with Laser Appraiser
How are you acquiring your inventory? Either through auction (online or brick-and-mortar) or through trade-in:
Auction purchasing is sometimes challenging, but the process is pretty straightforward. The key is to not get caught up in the commotion of the surrounding buyers (your competition!). Do your homework and know which vehicles will do well at your dealership and in your market. Go beyond the normal guidebook values and study what competing dealers are marketing and selling. Laser Appraiser Dealer Studio and Retail Market View will allow you to experience exactly how a particular vehicle is positioned in your market, all the way down to equipment and color. Information breeds confidence and good decisions.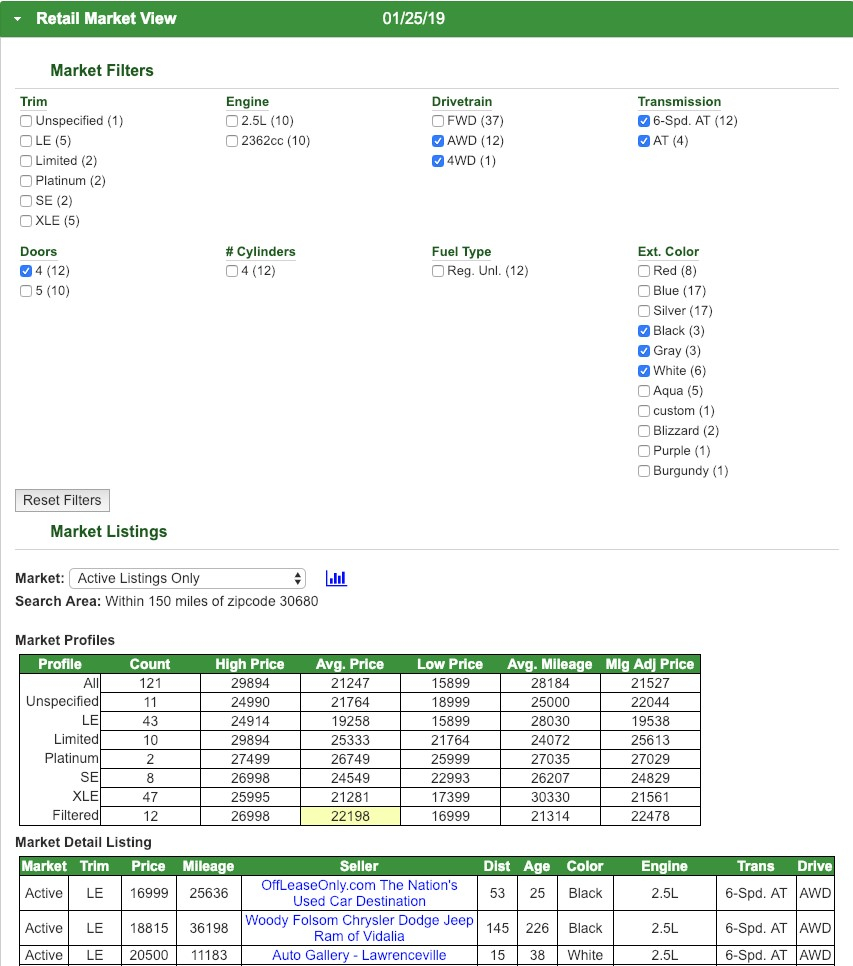 Trade-ins are tricky since you are dealing with an individual who is potentially selling their used vehicle to you AND purchasing a vehicle off of your dealership lot. You should know what that individual knows; KBB retail? NADA trade-in? Be transparent; show them a printout of a guidebook and point out things like equipment, mileage, balding tires, or scratches. The more trust that is built, the better. That gives you and your business an excellent opportunity not only to sell them a new/used vehicle from your inventory but to also flip the trade for a profit. Guidebooks can certainly assist you along the way, and a tool like Laser Appraiser Dealer Studio will give you the information to minimize mistakes, and turn vehicles quickly and competitively.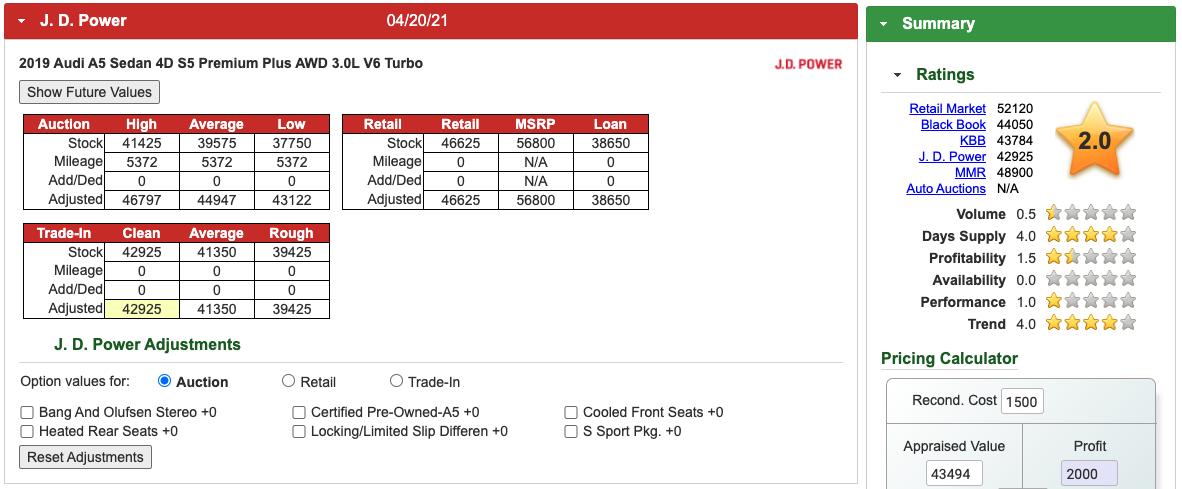 If your appraisal tools are lacking, you might lose out to other dealerships that have better technology and more competitive pricing. Let us now examine the factors that go into car appraisal strategy and how to improve your buying decisions:
Find the average market price of the vehicle. Simply input a VIN. The Laser Appraiser VIN Scanner is simply the best. No more struggles or long waits when shooting the barcode. Then, filter down to trim and equipment, and input mileage. This can be accomplished with both Laser Appraiser VIN Scanner and Laser Appraiser Dealer Studio. You will then discover the number of vehicles you are competing with within your market, along with the average price (adjusted for mileage). Once you consider things like transportation costs, reconditioning, and profit objectives, you can then put a much more accurate appraisal number on that vehicle.
Consider the condition, mileage, and trim. Of course, when we are dealing with used cars, the wear and tear of a vehicle can be a huge factor. Study the "Retail Market View" to see how your appraisal stacks up against the competition. Be sure to compare apples to apples, especially trim, and mileage.
Don't forget the equipment levels. Does the vehicle have a sunroof or a four-wheel drive? These features can make a car more valuable and therefore should be considered during your appraisal.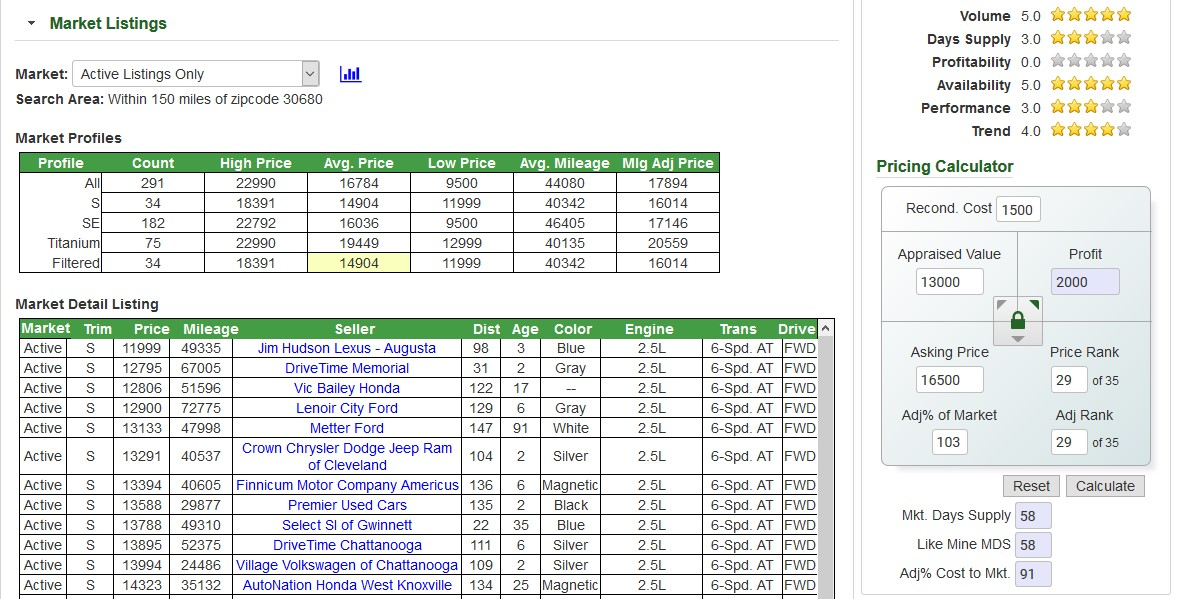 Discover Market Days Supply: With a quick glance, know how well your vehicle is performing over the past 45, 60, or 90 days.
Consider reconditioning and transportation costs. Does the vehicle in question need new tires? Hidden costs like this can quickly close a profit margin; it's always best to factor these in during an appraisal.
Speaking of margins… how much money are you looking to make off of this vehicle? With the pricing calculator tool in Laser Appraiser Dealer Studio, you will be able to see exactly how much profit you will make once you input all of the previously mentioned data points. Double-check that this vehicle meets your desired margin of profit.
These are some tips and tricks for considering everything during the appraisal process. If you are unsure of your pricing even after all of this, Laser Appraiser's Dealer Studio can bring you data from competitors in your area to keep informed about the surrounding dealerships.
If you are smart about your appraisals, they can be the most lucrative part of running a profitable business. Close more deals and determine the best price for a vehicle with the help of Laser Appraiser Dealer Studio today.
Please share this article and start a free Laser Appraiser VIN Scanner or Dealer Studio demonstration.
#MineProfitsFromVINs today.