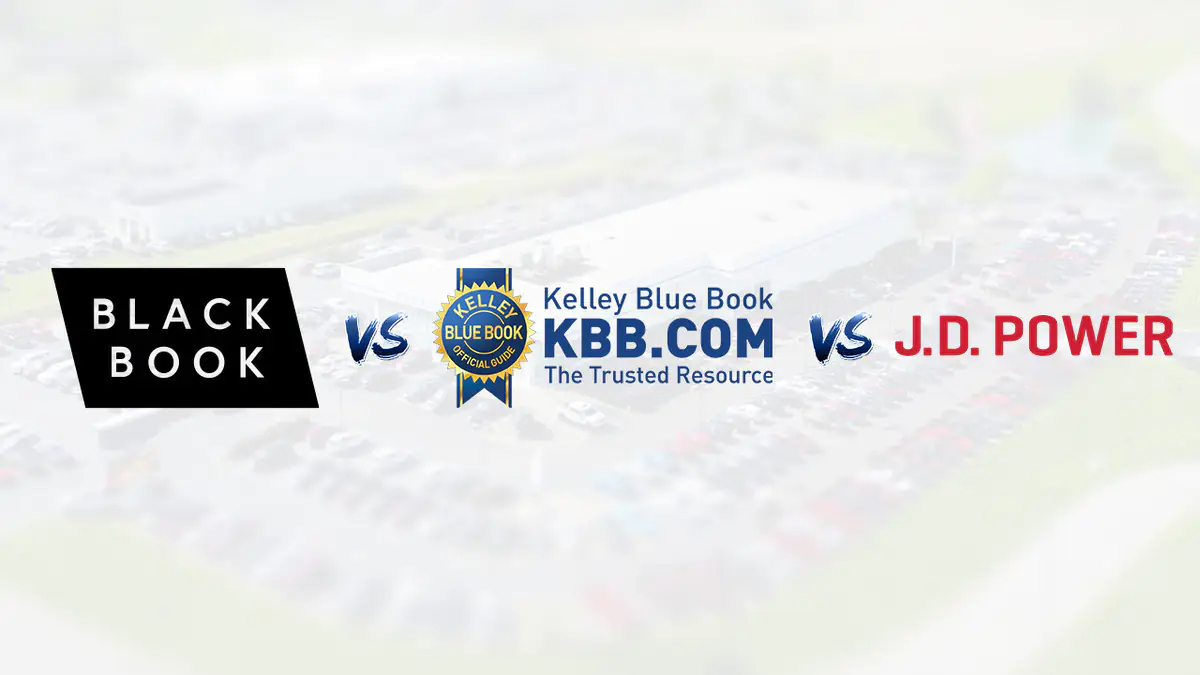 Posted on: Monday, 20 February 2023
Black Book vs Kelley Blue Book vs J.D. Power Guides (Updated)
Ask any used car dealer what the most accurate guidebook is and you will likely get very different answers depending on what part of the country you are located in. Kelley Blue Book is heavily used on the West Coast, Black Book in the Southeast, and NADA (now known as J.D.Power) is more widespread nationally due to its heavy dependency on financial institutions in regard to loan originations. The entire automotive sales industry leans on all three car value guides for various reasons. Most dealers choose more than one guidebook when appraising to make the most informed decision for their investments. To understand which car appraisal tools are right for you, take some time to see how the three different vehicle valuation services compare to each other.
What is the Black Book Auto Value Guide?
According to its website, "Black Book® is best known in the automotive industry for providing timely, independent, and accurate vehicle pricing information, and is available to industry-qualified users through online subscription products, mobile applications, and licensing agreements. A leading provider since 1955, Black Book has continuously evolved to ensure that it achieves its goal of delivering mission-critical information to its customers, along with the data analytics necessary to successfully buy, sell, and lend."
Black Book is exclusively geared towards dealers, wholesale buyers, and lenders, whether it is by website, smartphone application, or 3rd party integrations. Their data is not offered to consumers. For that reason, car buyers are not typically familiar with Black Book values and they may not trust a Black Book-driven appraisal at a dealership. However, when dealers are purchasing vehicles at auction (for inventory), Black Book's WHOLESALE data is second-to-none.
In the modern used car sales world, keeping the lot full at your dealership depends heavily on purchasing the right vehicles at auction. However, you need to be able to identify which cars, trucks, or SUVs will sell quickly in your market while clearing as much profit as you possibly can. Regardless of where your dealership is located, increasing your average used car profit margin is critical to your bottom line with every bid.
Having the latest up-to-date and accurate Black Book vehicle value data at your fingertips is a game changer when it comes to identifying winners and losers at dealer auctions. That's why so many dealerships love Black Book car valuation data. If your car dealership is in the Southeast, you already know how valuable the Black Book vehicle valuation guide is. For those unfamiliar with Black Book market values, they are an independent wholesale and resale automotive pricing guide.
Since Black Book car values are not available to consumers, this guidebook is more useful for dealerships looking for a competitive edge using wholesale and retail data points. Keep reading to learn more about the Black Book vs Blue Book comparison.
What is the Kelley Blue Book Auto Value Guide?
Kelley Blue Book was founded in 1926 and is the most recognizable guide to both consumers and car buyers. For that reason, it would be wise for a dealership to at least consider KBB's RETAIL, TRADE-IN, and FAIR PURCHASE PRICE values on each vehicle they appraise. On the West Coast, many financial institutions use Kelley Blue Book's WHOLESALE LENDING value as the standard of what amount to loan on a particular vehicle. In many cases, for these institutions to even begin the loan process, they must have a document showing KBB's WHOLESALE LENDING and RETAIL values.
The Kelley Blue Book car value guide does not need an introduction to consumers or professionals in the automotive industry. It is one of the most trusted resources for gathering and publishing a complete snapshot of used car prices based on up-to-date market data. Unlike Black Book used car values, Kelley Blue Book pricing is available to consumers. Not only that, KBB used car values are a very trustworthy resource for consumers. Coupling the strong consumer presence of KBB's data with a wholesale value, such as Black Book, for example, is an excellent recipe for a dependable vehicle appraisal.
Are you beginning to see why so many dealerships like to use more than one auto valuation guidebook to build their inventory while maximizing the potential profit margin on every transaction? Keep reading to see how the Black Book vs Blue Book vs J.D. Power comparison plays out.
NADA Car Values Guide Is Now J.D. Power Car Values
Car dealerships relied on NADA guides to keep them up to date on used car market values for over 82 years. Now you can get the same great NADA used car values and even more beneficial vehicle-specific data through J.D. Power car valuation services. NADA (J.D. Power Valuation Services) began in 1933 and has since been an industry leader in supplying LOAN and TRADE-IN values (among others) to dealers across the country. They also offer a consumer website that establishes transparency in the industry. J.D. Power Guides were the first to publish a LOAN value that helps lenders establish a baseline amount of credit to extend on a vehicle transaction. And since most lenders use J.D. Power, dealers tend to follow suit.
To this day, J.D. Power car sales data remains an industry-trusted resource providing car buyers, lenders, and dealerships with accurate retail, trade-in, and loan values. Because so many lenders and car buyers rely on J.D. Power's used car values, it is beneficial for dealerships to have the same vehicle appraisal data at their fingertips. This provides a more transparent and trustworthy experience for everyone involved. Just like Kelley Blue Book price data, J.D. Power values (NADA values) are available to consumers for even more transparency. Many consumers are familiar with and trust J.D. Power vehicle values. Black Book price data is really the only one not available to consumers, but it proves to be just as valuable as the other two vehicle appraisal guidebooks throughout the industry.
What is the Best Car Book Guide?
The bottom line is that there is no "perfect" guidebook or process for appraising a used vehicle. Instead, Laser Appraiser enables dealerships with the perfect combination of appraisal and valuation tools, empowering wholesale buyers of used cars for maximum Return on Investment (RoI).
Black Book, Kelley Blue Book, and JD Power (NADA) guidebooks may be integrated into Laser Appraiser VIN Scanner and Laser Appraiser Dealer Studio to give you the best of what each vehicle appraisal tool can offer in one convenient place.
Discover how the Laser Appraiser Car Dealer Management Software and VIN scanner app can give you the winning formula with a free demo today! Please share this article and start a free Laser Appraiser VIN Scanner or Dealer Studio demonstration.
#MineProfitsFromVINs today.