Posted on: Friday, 07 May 2021
Dealer Guide for Customers Buying a Car as a Gift
It is not always easy to think of the perfect gift to give somebody you love. On one hand, you want to show your appreciation for them but you also know the things they need the most right now. Believe it or not, debating between finding something practical versus giving a luxury item for a gift doesn't need to be as difficult as you would think.
There is one thing that almost everybody needs in their life every single day. Dependable transportation. This is why every holiday season presents the opportunity to buy a car for a loved one. Giving somebody a car will remind them how much you love them 365 days a year, not just the magical moment when they first see the gift.
Everyone knows the commercials. Set the perfect seasonal scene as the family walks outside. There is a new car wrapped in the driveway with a big red bow on top. Imagine the feeling you could give somebody by making that experience come true for them. It would be like recapturing the emotions of your own favorite holiday memories by creating one for somebody else. Now that is a gift that keeps giving.
This year, many customers will walk into a car dealership hoping to purchase the ideal gift for their family. This is why it is so important for dealerships to stay one step ahead of the rush by being ready to meet their customers' needs now.
Finding the 'Right' Car
If a customer does not come in with a foolproof plan, the dealership should begin asking questions to identify the shopper's daily driving needs. How many passengers will they need seats for? How often will they be driving per day or week? What kind of fuel efficiency are they looking for? Some of the basic answers to these questions will begin revealing the kind of vehicle that will suit their needs.
Failure to identify the needs of each specific customer could result in an unhappy buyer or even worse, somebody who walks out the door, never to return. The last thing you want to do is sell somebody a car that might not be the right size for their needs. Perhaps the vehicle does not have enough room for a car seat making it useless for an expecting family. Working these kinds of problems out ahead of time helps dealerships avoid headaches later on.
Dealerships should be able to navigate through the process of finding the right car for a loved one by gathering the right information about their driving needs. Getting the answers to well-informed questions is part of the job. Each customer is guaranteed to find the perfect fit from dealerships that offer a wide range of great vehicles to choose from.
Ask if the Car is a Surprise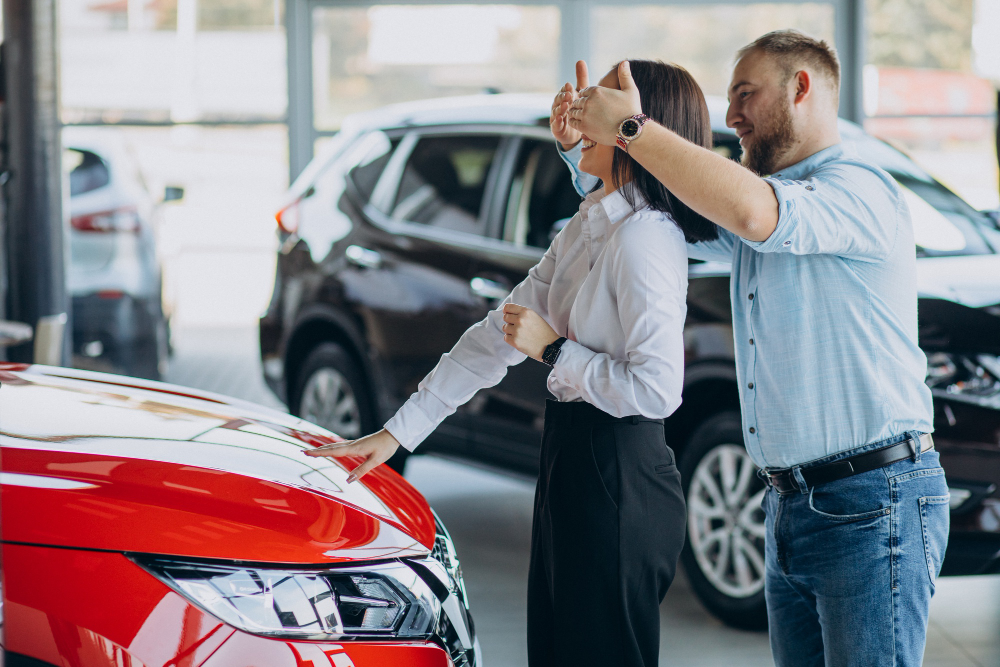 The last thing anybody wants to do is spoil a surprise, especially not a car dealership. It is fun to be part of the process, so always ask if a gift is going to be a surprise car. Gathering this info can ensure the dealership will not make an accidental phone call to a family member who spills the beans to everyone.
Car dealers should be able to offer expertise and advice on how not to ruin the plans before it happens. They should also offer to hold the car until the day of the surprise. Last but not least, they should always be able to offer the big, red bow that has become a staple of the holiday season!
Navigating the Customer Through Registration and Financing
If the customer really wants the car to be a surprise, they should understand it might be difficult for them to officially buy the car in the other person's name. To complete the paperwork, this usually requires the surprise party's signature. It is the dealership's responsibility to ensure they are following laws and not allowing someone to illegally purchase a car in another person's name.
Being aware of all state laws is especially important when it comes to seeking financing for a surprise car purchase. Make sure nobody is getting into any legal trouble while they are trying to give the gift of a lifetime!
All in all, buying someone a car as a gift is a popular thing to do every holiday season. It is a dealership's job to make sure each customer is making the purchase safely and wisely. Helping each customer make well-informed decisions about the kind of car a loved one might like will only make everybody involved happier.
The bottom line is the dealership should enhance the element of surprise while helping the customer understand the limitations involved. This way you can be part of the fun instead of spoiling the surprise.
Having all the right data at your fingertips will keep your dealership on the top of the new and used car market at all times. From live market data to full car dealer management software solutions, Laser Appraiser's Dealer Studio keeps your focus where it belongs at all times: the customer.
Use these tips to help your dealership's customers deliver the perfect present this holiday season! Just don't forget to offer the fancy red bow on top!
Please share this article and start a free Laser Appraiser Mobile or Dealer Studio demonstration.
#MineProfitsFromVINs today.