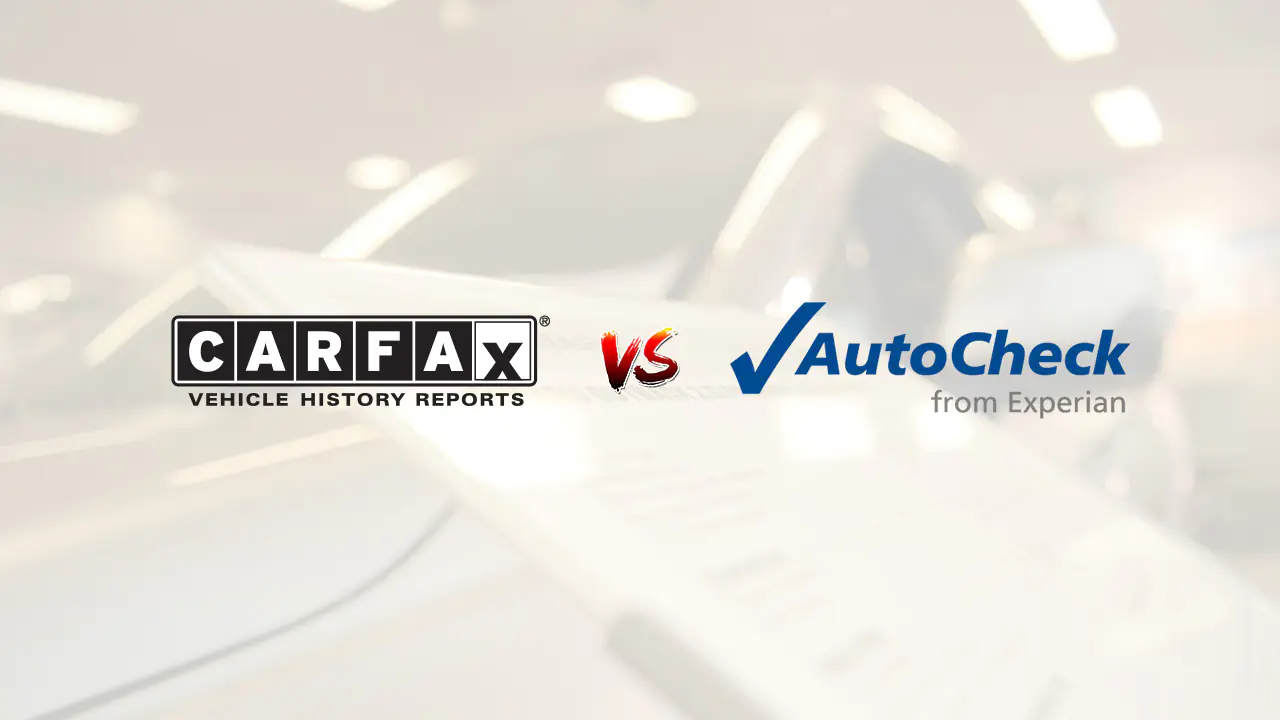 Posted on: Friday, 07 April 2023
CARFAX® vs AutoCheck® Comparison (Updated)
There has been much debate over whether CARFAX or AutoCheck is better. In this comparison between CARFAX and AutoCheck, you will learn the key differences between the two so you can decide which one is better suited for your used car dealership.
Transparency is at an all-time high when it comes to the car buying process. Customers are doing their research before entering a dealership. Each vehicle listing should expose as much information as possible in order for shoppers to feel confident and trusting. Even negative information should be divulged with assurances that the price is reflective. A big piece of that information is a Vehicle History Report.
What is a Vehicle History Report?
A Vehicle History Report, or VHR, is a detailed description of past events associated with a specific automobile. Such details may include:
Number of owners and the vehicle purpose;
Service records and recall notices;
Accident and damage history;
Title History and Lien information;
Odometer readings;
And more...
While no VHR can find an owner of a vehicle by VIN number, for dealers, the history of a vehicle plays a major role in the determination of adjusted market value. There are two commercial options, CARFAX, and Experian AutoCheck.
What's the Difference Between CARFAX and AutoCheck?
CARFAX is the name that most car shoppers know…"Show me the CARFAX"! There are certainly cheaper alternatives in the VHR market; however, none have the branding and name recognition of CARFAX. At the end of the day, if a customer is asking for a CARFAX History Report, providing an alternative/cheaper brand may not sit well and could impact sales closings.
CARFAX is also known to have more data sources compiled into its reports. This can lead to more accurate mileage reporting and ownership numbers of the vehicle in question. CARFAX also has a guaranteed buyback program that helps ensure that their reporting is error-free. Again, this circles back to consumer trust and confidence.
AutoCheck is typically known as the cheaper alternative to CARFAX. Many dealers and wholesale buyers prefer AutoCheck because they have exclusive access to Manheim and Adesa auctions' data reports. This breeds confidence with the dealer, but not necessarily the car buyer.
CARFAX typically charges a flat fee for their VHR service. AutoCheck offers pricing plans based on the number of reports your dealership pulls.
Pricing and consumer preference are not the only differences between CARFAX and AutoCheck though. Each VHR collects their data from slightly different sources and there is also a difference between how CARFAX and AutoCheck interpret that data. For example, CARFAX collects data from over 100,000 different sources including DMVs, auctions, as well as service and repair shops. AutoCheck collects its data from similar sources; AutoCheck also will factor data collected from insurance companies and law enforcement agencies into their VHR process.
Both CARFAX and AutoCheck provide detailed vehicle history reports including information about accidents, service records, title history, and more. However, they may present and interpret the data slightly differently. CARFAX usually prioritizes information regarding service records and ownership history while AutoCheck focuses on potential issues that could affect value or safety. As far as vehicle history report accuracy is concerned, both CARFAX and AutoCheck strive to be as accurate as possible. It's usually a good idea to check both CARFAX and AutoCheck reports to get a complete picture of a vehicle's history.
CARFAX Versus AutoCheck Conclusion
Many people want to ask, is AutoCheck as good as CARFAX? Well, after learning more about how they both collect and interpret data, you quickly realize there is no uniform answer as to which vehicle history report provider is best. When debating whether CARFAX or AutoCheck is the right VHR for you, it really depends on your perspective.
For auction buyers and wholesalers, AutoCheck may give the most reliable vehicle acquisition results. CARFAX delivers buyer confidence. Explore each to determine the best dealership fit. Using both may also be a profitable approach... Use AutoCheck inside your organization, while handing potential buyers a CARFAX as a transparent sales initiative.
Both CARFAX and AutoCheck can be integrated for free into Laser Appraiser VIN Scanner and Laser Appraiser Dealer Studio. Submit a CARFAX registration or AutoCheck registration to establish an account. Then provide Laser Appraiser with your CARFAX login or AutoCheck login to activate your free integration.
Save time while having the right data to make informed buying and selling decisions every time with Laser Appraiser. Enjoy easy access to CARFAX, AutoCheck, and other dealer appraisal software tools in one convenient app. Take advantage of the latest dealership auction pricing software with the power of AutoCheck and CARFAX vehicle history reports, in the palm of your hand, with Laser Appraiser.
Discover how the Laser Appraiser Used Car Dealer Management Software and VIN scanner app can give your used car dealership the winning formula with a free used car dealer software demo today! Please share this article and start a free Laser Appraiser VIN Scanner or Dealer Studio demonstration to see how you can use these tools to increase your average used car profit margin on every transaction.
#MineProfitsFromVINs today.