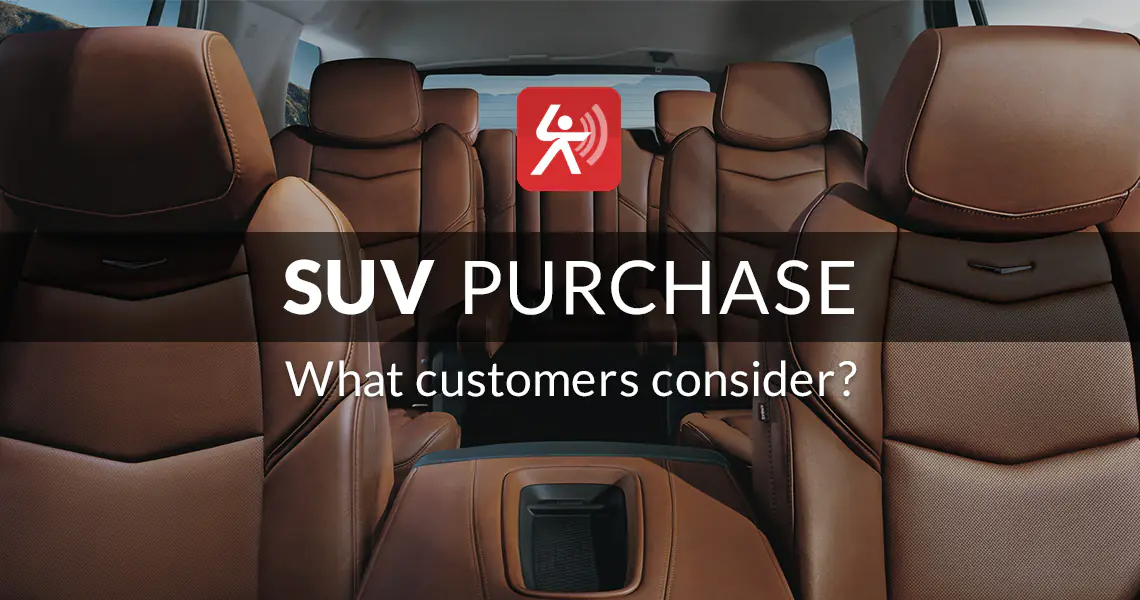 Posted on: Tuesday, 18 August 2020
What Customers Consider Purchasing an SUV
Running a car dealership is all about being able to accurately gauge what its customer base wants and needs as soon as they step foot on the premises. Looking at the recent sales statistics in America, it is safe to say that quite a few of those customers would be interested in an SUV. The draw of an SUV is clear – it is roomier, doesn't waste a ton of gas, and it is the perfect family vehicle. However, in order to get a leg up on the competition, automotive dealers will want to know what customers consider when purchasing their SUVs.
Variety
There are many, many shapes and sizes of SUVs (extra small, small, small three-row, midsize, large, luxury, super luxury, etc.), and each comes with its own capabilities. In the past, SUVs were simply defined as trucks that had extended cabins, but today an SUV can come with any amount of features. Dealerships should make a note to offer a variety of sizes when it comes to SUVs, because customers will probably come in each with their own expectations of what their ideal SUV is "supposed to" look like. That being said, compact and midsize SUVs are purchased most consistently across the country, while subcompact SUVs tend to be popular in large cities.
Safety
SUVs come with a ton of safety features that are available, and at a dealership, it is important to be able to predict which features are most sought after by its customer base. SUVs usually seat 5 to 9 passengers, but whether adults can sit comfortably in the backseat and if the headrests and seatbelts fit passengers safely are important considerations. Driver assistance, such as backup cameras and blind-spot monitoring are also common features that customers look for. Being able to offer a range of cars that can fit adults and children comfortably and safety is an important aspect that dealerships should take into account.
Other features
Touchscreens are becoming quite commonplace in newer cars, and the sizes of these screens can be up to ten inches across. Nearly all newer models offer features like connecting to smartphones, charging ports throughout the car, and display systems for watching TV or movies. When buying a new car, customers may also be looking for the latest technological features that are offered. It is important to add all sorts of variety in touchscreen and display features across all inventory so that customers will be able to choose exactly what they are looking for.
Off-roading capabilities
While it is commonly marketed that most SUVs are able to go off-road, most of them are ill-equipped for an off-roading experience. For customers that are looking to deviate from the path most traveled, features such as an all-wheel drive and a large amount of ground clearance are important. Automotive dealerships should take note that having a few cars in the inventory for the more adventurous purchasers is a must.
The large variety of shapes and features that SUVs can come in might make it hard for a dealership to choose which inventory will be most profitable on the lot. Laser Appraiser Dealers Studio is a great management software that can provide live market data straight to your office space.
Dealers Studio analyzes market intelligence and trends that can help small and large businesses make the best inventory purchases for your dealership's specific market, so you can find out what customers in your area and across the country are looking for in their SUVs. Dealer Studio can also help you price vehicles by comparing them with your competitor's process, which can provide you with a competitive advantage. Make sure that you have the upper hand when it comes to America's trendiest vehicle.
Please share this article and start a free Laser Appraiser VIN Scanner or Dealer Studio demonstration.
#MineProfitsFromVINs today.